Milan, 3 October 2017. Italo and Alstom present "Italo EVO", the first of 12 new Pendolino trains[1], only ten months after the presentation of the first wagon in Savigliano (CN). This wonderful ruby red train inclusive of all interiors will be exposed in Expo Ferroviaria 2017 and inaugurated today before the Minister of Infrastructures and Transport Graziano Delrio, NTV's Chairman Luca Cordero di Montezemolo, NTV's CEO Flavio Cattaneo, and Alstom Italia's CEO Michele Viale.
The first 4 trains will start working in December 2017. These new trains will allow NTV to implement daily services and increase the number of trains on the current lines of its network. Rome – Milan will pass from 40 to 50 trains – i.e. one train every half an hour - with an increase in no stop trains from 15 to 20, whilst daily service from/to Venice will double, passing from the current 8 to 16. The other 8 trains will start working in 2018; this will allow the opening of new lines such as Turin-Venice and a greater frequency.
Italo Evo is the most modern train in Europe in terms of sustainability, comfort and aerodynamics. It can travel at 250 km/h. it is 187 metres long, formed by 7 wagons and can carry 480 passengers in three sections, i.e. Club, Prima and Smart. Its main colour and external part will be ruby red. The Club Executive section will foresee the same current features but there will be new seats - ruby red with blue trimmings – and greater comfort and exclusivity for its passengers that will feel absolutely cuddled by their new seats. The new feature will be the self-service counter, inspired by the aviation model. You can have a coffee break with a great selection of coffee capsules and mini snacks at any time during your trip. Prima's environment will remain the same as in AGV. Italo EVO's seats by Pulterirrima, will be in blue leather with red trimmings. Smart seats instead, will be in grey leather with red trimmings on the headrests. Each seat comes with a USB port to allow travellers to connect their devices to the on-board portal and recharge them during the trip.
The external part of the new Italo EVO – just like the internal part – comes in red ruby with the typical golden hare on one side. Its front part is futuristic, designed to guarantee a great visual effect, a high level of safety for the driver in case of an accident and the best possible aerodynamics.
This new evolution of the Pendolino family is an example of high performances associated with reliability and great elegance. The train has been made using recyclable material and designed in line with specific eco-sustainability criteria aimed at reducing CO2 emissions. Its distributed traction system increases efficiency, whilst regenerating energy during braking. The train complies with the recent 2014 Interoperability Technical Specifications (TSI[2]), common conditions and provisions established by the European Union. The train has been designed and manufactured in the Alstom sites of Savigliano (CN), Sesto San Giovanni (MI), Bologna and Nola (NA). Like for all AGV Italo trains, the latter site will take care of all maintenance activities for thirty years.
"Seeing here today all these new trains and thinking that only five years ago Italo was a "crazy idea" makes us all feel really proud and is a great satisfaction for all our travellers. But also NTV and Alstom workers can be proud of what they have made: a new super-technological and sustainable train that will allow to increase our fleet, network and services by 50% . The company is ready to face new challenges and will take on every opportunity both here in Italy and abroad" stated Luca Cordero di Montezemolo, Chairman of NTV. "I remember well December 2006, looking back at when together with a group of friends I decided to begin along this path, but I also look at a future of many developments with great enthusiasm."
"We are happy to expose in Expo Ferroviaria 2017 the "Italo EVO" Pendolino train in all its glamorous elegance. The train is finished, but still needs to complete the homologation process before entering into service. We will continue in our commitment next to our client NTV to make the project a success made in Italy. Our Italian sites of Savigliano, Sesto and Bologna are working to complete the new 12 trains that will come into service starting from December 2017. These new trains will increase Italo's fleet, passing from the current twenty-five AGV trains to a total of thirty-seven trains made by Alstom." – said Michele Viale, CEO of Alstom Ferroviaria.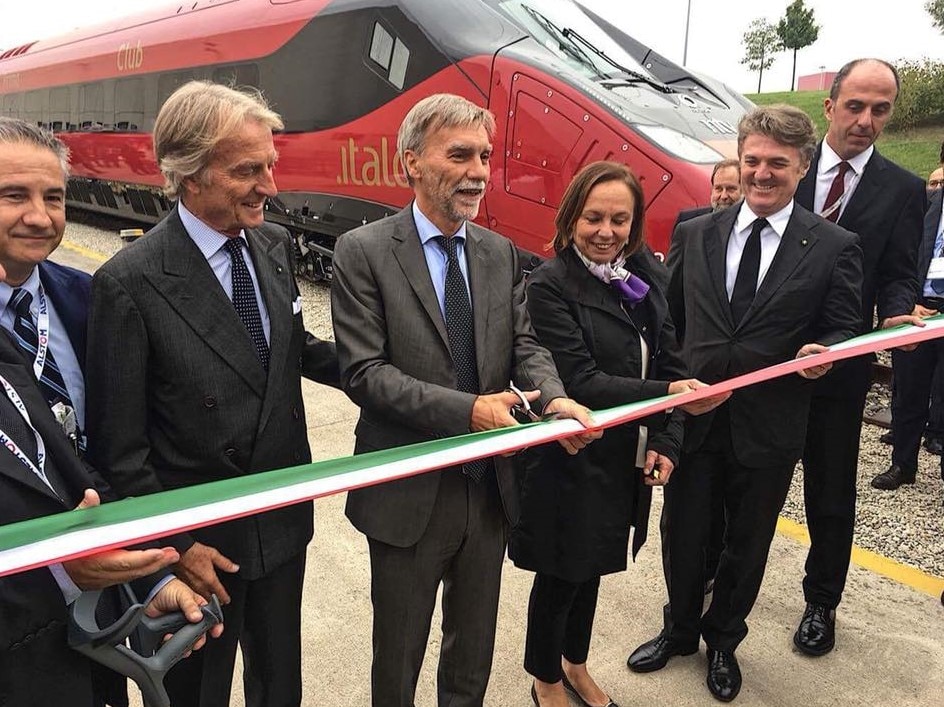 ---
[1] Pendolino for NTV belongs to the Avelia family, Alstom's range of high and very-high speed trains. The Avelia family has four main models - Pendolino, Euroduplex, AGV and Liberty- a summary of thirty-five years of experience and over 1050 operating around the world.