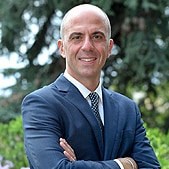 Born in Cagliari on 5 May 1977, married with two children, Gianbattista La Rocca graduated in Engineering from La Sapienza University, Rome in 2003.
He is currently CEO and General Manager in Italo - Nuovo Trasporto Viaggiatori SpA.
He arrived at NTV in 2009 where he has covered several roles with increasing responsibilities: Head of Operational Staff, Training Manager, Production Manager, Personnel Director, Operations Director, until holding the position of General Manager.
In 2007, he began working for Rail Traction Company SPA (a private rail freight company) as Operation Manager.
He began his professional career at the consulting company Protos SPA (technical and financial control company) where, as overseas manager, he was in charge of several projects for the development of large rail, port and airport works in Europe and South America.