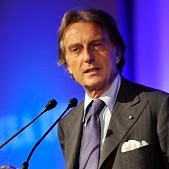 Luca Cordero di Montezemolo was born in Bologna on 31 August 1947.
He is currently Chairman of NTV, Nuovo Trasporto Viaggiatori, the first private company of High Speed Trains in Europe. He is, also, a founding member and among the major shareholders of the Company.
He is the Chairman of Telethon, the leading Italian charity that funds research on genetic diseases and the Chairman of Charme Capital Partners, an international private equity fund.
He is a Board Director of NTV S.p.A., Gruppo Renova, Unicredit S.p.A. and Coesia SpA and was the Chairman of Alitalia until May 2017.
He served as Chairman of Ferrari Auto SpA from 1991 to 2014. He joined Ferrari in 1973 as the assistant of Enzo Ferrari at Maranello and, thanks to his commitment, the company won two Formula One world titles in 1975 and 1977.
He worked at the Fiat Group between 1977 and 1983, first as Director of External Relations and then as Managing Director of the holding company for all the group's publishing activities. In 1984 he was appointed Managing Director of Cinzano.
In 1985 he was appointed general director and was in charge of the organisation of the "Italia '90" World Football Cup.
In 1991 he returned to Ferrari as Chairman and Managing Director, making the company reach the highest levels of competitiveness in industrial design and manufacturing, as well as in sports results. As Sporting Director and Chairman he won 19 World Drivers and Constructors Championships.
He was Chairman of the Fiat Group between 2004 and 2010 and Chairman of Maserati between 1997 and 2005. As Chairman of Confindustria between 2004 and 2008. At the same time, he served as President of LUISS Guido Carli University until 2010.
He also served as President of the Italian Federation of Newspaper Publishers and President of the Bologna International Trade Fair.
In 2000 he received an honorary degree in Mechanical Engineering from the University of Modena, in 2004 a degree in Business Management from the University of Genoa, and in 2005 a degree in Industrial Design from the Politecnico of Milan.
He was mentioned by the "Financial Times" as one of the fifty best managers of the World in 2003, in 2004 and in 2005.
In June 2012 he received the 2012 European Manager award from the European Business Press Federation.
In 2015 he earned a place in the Automotive Hall of Fame in Detroit, the most prestigious award in the international automotive industry. He owns the title of Knight of Labour and in 2008 the President of the French Republic awarded him the title of Commandeur de la Légion d'Honneur.