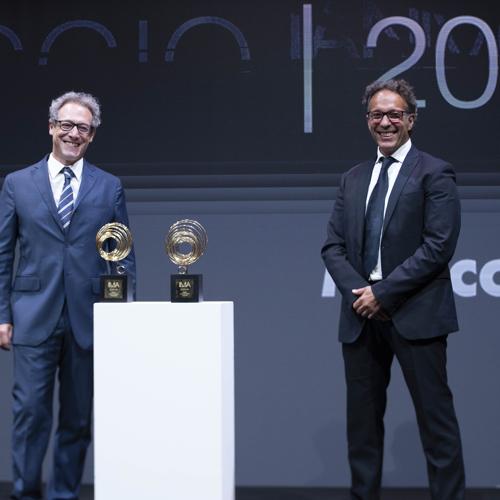 On 14 September 2020, the 7th edition of IMA - Italian Mission Awards – were assigned in Milan's Superstudio Più. Awards were given to operators of the tourism sector and travel managers as well as for the first edition of I Corti di Viaggio, the "literary award" designed by the editorial office of our magazine MISSION. This initiative – made by Marcopolo TV and Italo - is dedicated to all those passengers who wish to share their experience and emotions linked to a business or leisure trip by writing a short story or taking a photo. The best works were selected by a group of experts formed by expert travel journalists and writers and then taken onto stage by a professional actor. Italo is proud to have supported this wonderful initiative in which travelling is at the centre, thus we have decided to publish the best stories of the writers who have won the best holiday short story, the best business travel short story and the best travel photo: Enjoy your reading!
Roma - Venezia con amore
di Christian Gonzales
Guardavo fuori dal finestrino. Gomito sul bracciolo, non la smettevo di tormentarmi il mento. Il treno Italo fluttuava alla massima velocità, regalandomi scorci di morbide colline toscane rosso ruggine, quasi carezzevoli. Ma non riuscivo a goderne. "Entro mezzogiorno!" Mi avevano avvisato. "Dobbiamo partire subito, prenota il treno." Avevo detto pochi secondi dopo a Francesca. "Ci daranno un posto al ritorno anche per lui?" "Sì, certo!" "Ottimo."
Da Roma Termini, proseguimmo in furgoncino. Giunti a fatica tra inospitali montagne - segnale gps troppo debole - lo ritrovammo accartocciato in una gabbia. Lui, dietro le sbarre di ferro, pelo sporco e arruffato, mi aveva guardato supplice.
"Era necessario?" In risposta, un'alzata di spalle.
"Calmo" - mi aveva sussurrato Francesca - "Vai a firmare le carte". C'era la seria possibilità che non lo rilasciasse nemmeno. Seguii la tenutaria dietro un capanno di pietre. Sotto quelle montagne, le nuvole grigie opprimevano il cielo e l'anima.
La donna tirò fuori un plico. Firmai. Annichilito e impaurito, il cagnolone mi vide uscire. Con le poche forze che aveva, mi venne incontro tremando. Francesca, che lo aveva al guinzaglio, era al limite delle lacrime. "Sei libero, vecchio mio" dissi, abbracciandolo.
Ora lo guardo. Bernardo, disteso sul morbido tappetto fornitoci dal treno, ricambia lo sguardo. Gli occhi, un caldo nocciola con una macchiolina nera sull'iride destra. Il paesaggio scorre sul finestrino. Lui, muso bianco su pelo fulvo, non si stacca dalle mie gambe. Il sole della laguna di Venezia splende in quei suoi occhi già colmi di gratitudine e di affetto, mentre io e Francesca ci abbracciamo.
Viaggio di Lavoro
di Fulvio Origo
Varsavia. Fine riunione. Forza, 55 minuti e l'aereo parte!
Sara, CEO per ambizione, madre per vocazione, realizza il poco tempo mancante, saluta distrattamente e si precipita per le scale. Attraversa la hall sospesa sui tacchi con passi veloci e brevi mentre maledice la gonna del tailleur, che la avvolge divinamente, ma la frena irrimediabilmente. Individua il taxi, si carica e si balestra incredibilmente di testa sui sedili posteriori. Io che per scelta non corro dagli anni 80 arrivo in scia, con un po' di dignità in più, aggravando però la situazione.
-50. Si parte. Incrocio lo sguardo contrariato di Sara e so che è meglio tacere.
- 45. Chiedo di accelerare. Il tassista, evidentemente parente di Chronos o ancora sotto shock dall'ingresso a pelle di leone, non si scompone.Sara scorre le email.
- 40. Dal finestrino la campagna oltre l'autostrada degrada pallida confondendosi col cielo grigio carico di neve.
- 35. Lancio quattro parole di circostanza sul meeting, simulando indifferenza al tempo che passa noncurante.Lei annuisce.
-30. Faccio notare che uno in bici ci ha appena superati; il tassista in un impeto di fierezza non ci sta, sgasa, cambia corsia repentino e ci guarda fiero dallo specchietto. Non capisco, ma evito di fargli notare che siamo sostanzialmente, ostinatamente, oggettivamente fermi.
- 25. Avrei scommesso si sarebbe cambiata le scarpe.
- 20. Vedo l'aeroporto. Il tassista parla alla radio in polacco e ride.
- 5. Gate. Sono ancora tutti all'imbarco: ce l'abbiamo fatta!
+5. Tabellone: volo cancellato.
+20. Intravedo il tassista. Mi fa l'occhiolino. Si fa largo in me il sospetto che avesse sempre saputo.
+55. Ancora Varsavia.
Sara mi sorride sconsolata unendo le punte delle sneakers.
E se ne approfittassi per chiederle l'aumento?